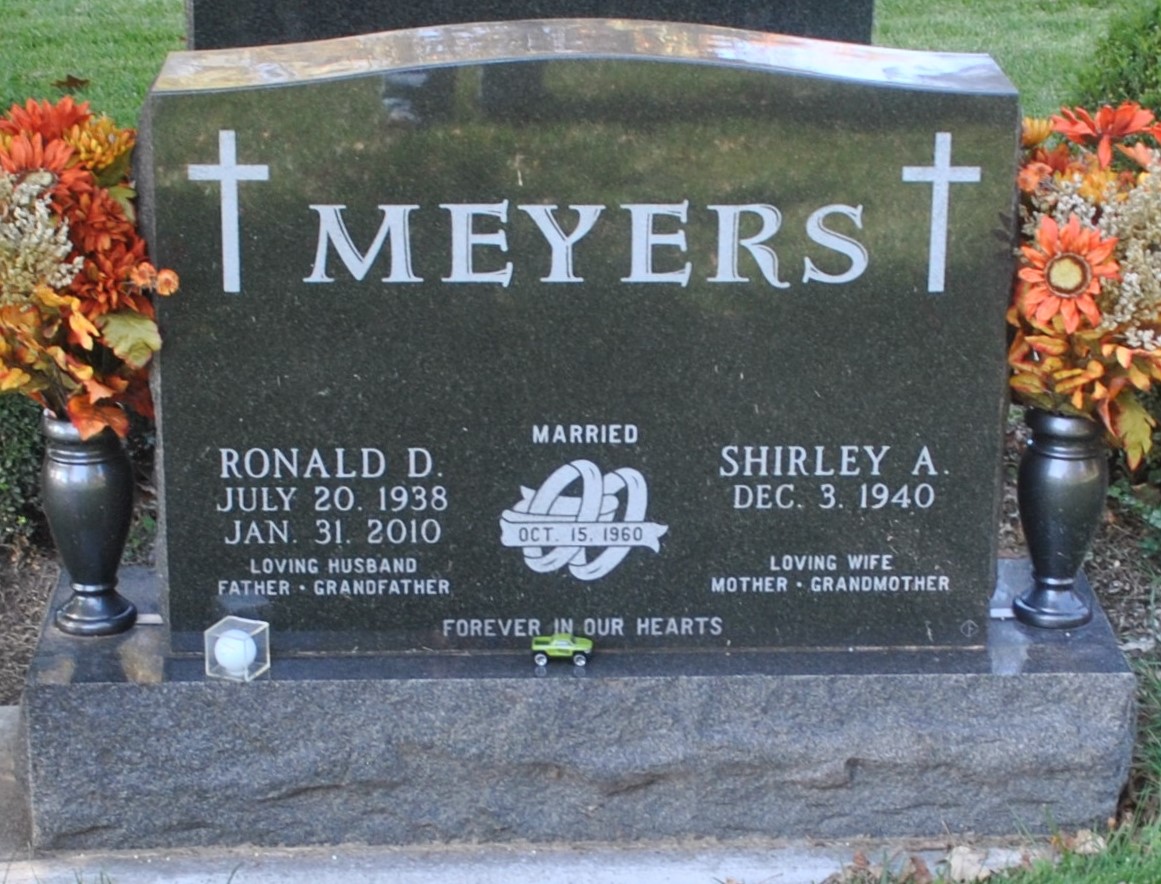 Shirley A Meyers
Born: December 3rd, 1940
Died: October 28th, 2023
Obituary
OBITUARY
Shirley V. Meyers
DECEMBER 3, 1940 – OCTOBER 28, 2023
Shirley A. Meyers, 82, of Centerville, Ohio, passed away on October 28, 2023. Born on December 3, 1940, in Kettering, Ohio, Shirley was a kind, generous, and loving wife, mother, grandmother, and great grandmother. She was known for her caring nature and took great pride in her family.
Shirley is preceded in death by her husband of almost 50 years, Ronald Meyers and brother Donald Henry. She is survived by her four sons Robert (Suzanne), Tim (Jody), Michael (Elaine), and Martin (Jamie), as well as her twelve grandchildren Matthew (Kelly), Alexandra (Brett), Natalie (Michael), Abigail, Brandon, Brooke, Alexander, Ryan, Paige, Katelyn, Owen, and Olivia, and her three great grandchildren Charlotte, Ella, and Luke. She is also survived by her brother Dick (Delma), sisters-in-law Marilyn and Nancy, and her companion Pat Murray.
Shirley graduated from Fairmont West High School in Kettering, Ohio in 1958. She dedicated many years of her life to working at Kettering Hospital and continued to volunteer there after her retirement. She was a woman of faith and worshipped often. In her free time, Shirley enjoyed going to church, visiting with friends, and spending time with her special friends Janet VanArsdale, Elizabeth Butler, and her wonderful neighbors.
A funeral service will be held at St. Andrew Catholic Church, 1899 McCoy Rd, Columbus, OH 43220, on Monday, November 6, 2023, at 10:30 AM. The family will receive friends at Tobias Funeral Home, 5471 Far Hills Ave, Dayton, OH 45429, on Sunday November 5, from 2:00-4:00 PM. Private burial will be held at David's Cemetery following the service.
In lieu of flowers, donations can be made to St. Vincent DePaul Society in care of St. Andrew Church, 1899 McCoy Rd, Columbus, OH 43220, or St. Jude Research Hospital, 501 St. Jude Place, Memphis, TN, 38105 in memory of Shirley Meyers.